Congrats to Nick and "Bitchbasket"!!!
Your Name: Nick Tolbert
Car's Name: Bitchbasket
Model/Year: 1987 Cabriolet
How long have you had your car? Bought it my junior year of high school. Roughly 4 years now. This is my first car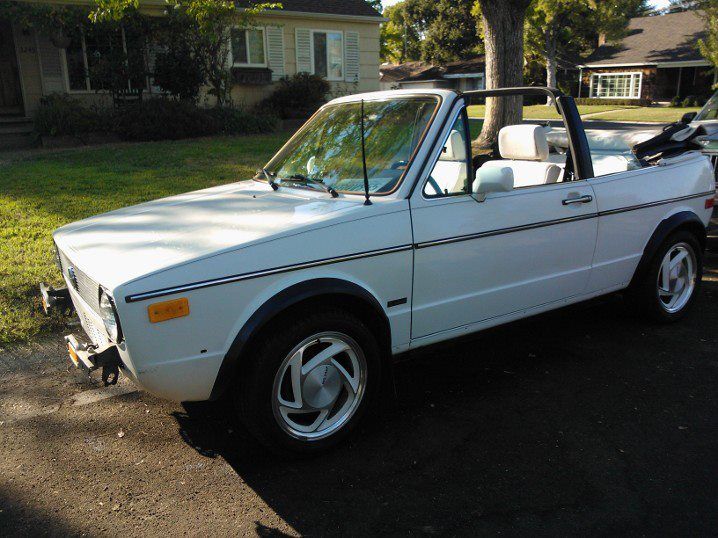 Is there anything unique about the history of this car? It was originally bought in 90212 Beverly Hills, CA. So close
Why did you choose to purchase this car? I couldn't find a hardtop for a decent price
Does anything in particular influence the direction you take when modifying your car? The whole car scene as a whole really. Talking ideas with people, watching youtube aftermovies of SoWo, H2Oi, Worthersee, etc, following builds on vortex, instagram, facebook and such. There are so many different things that I see and try to spin off of
What would you do to the car if money were no object? Complete strip down and rebuild, repaint alpine white, ABA turbo on ITBs, berg cup kit on some wide custom 15" 3 piece bbs bugattis, oxen red mk2 Recaro seats with mesh headrests
Who has been your biggest critic of this project? Me
Personal Message or Special Thanks: Brian for spending over 12 hours helping me replace the convertible top at his shop. Pretty much all of you have helped me in one way or another with advice or selling me parts or finding me things I needed. Landon/Pat/Nolan/Ricky/Jason/Rich/Will/Andrew/Kenny/Everyone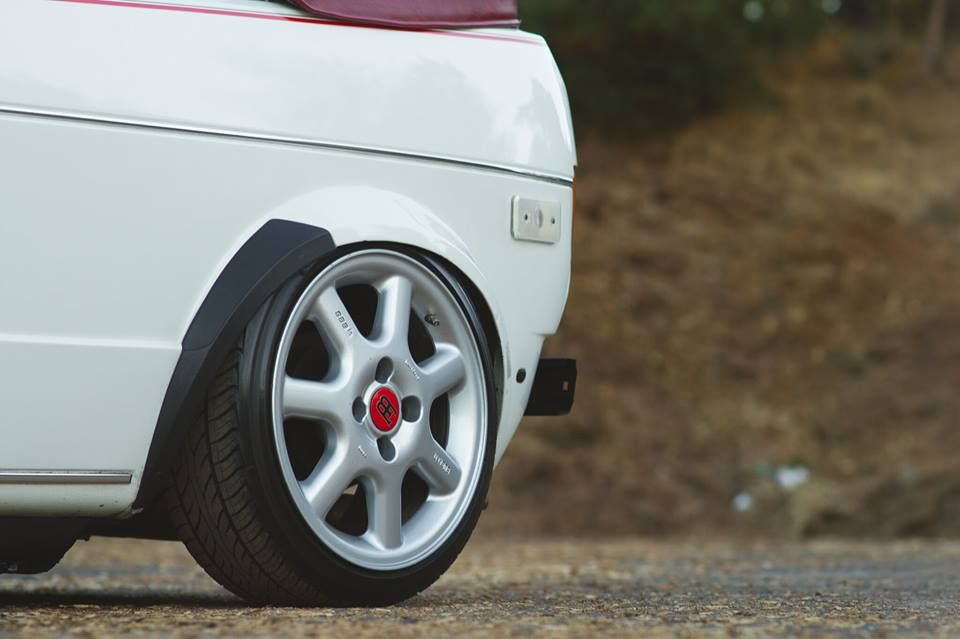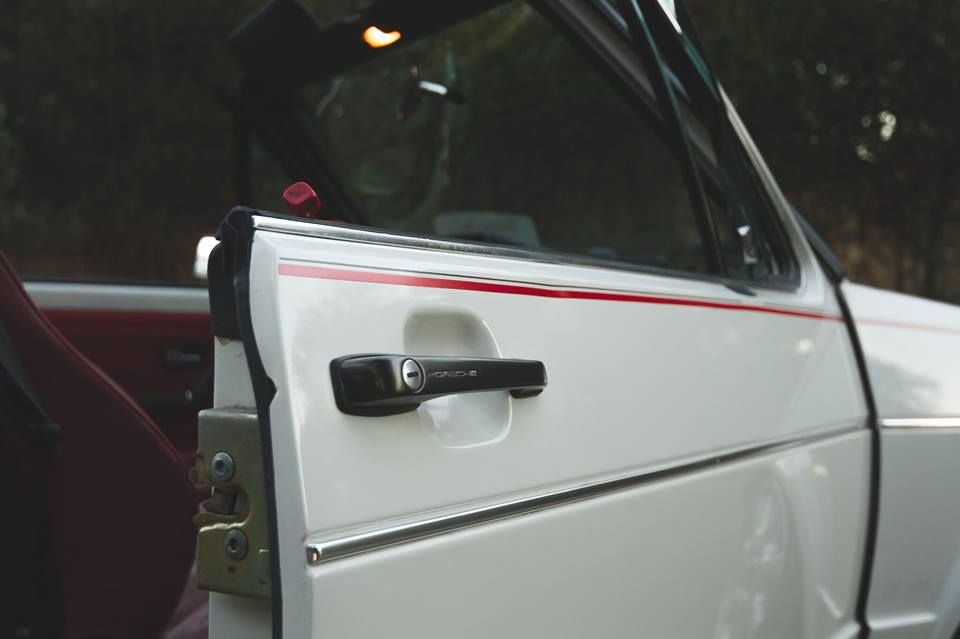 Car Details
Interior Modifications: Only original things are the dash itself, carpet, and center console.
Reupholstered the stock sport seats in Red Oxen vinyl, sourced a set of almost matching red door cards from a later cabby (thanks Brian and Landon). also a red rear parcel tray from the same cabby, Windesa wind screen, Porsche 944 glovebox latch, Michelotti Studio Tecnica steering wheel with a Momo hub, Tech53 steering column bushing, delrin gas pedal bushing, white LED dash lights, brand new switches all around with all corresponding lights working correctly, chrome inner door pulls, MHW red dice lock knobs, chrome quick release fire extinguisher mount with 1.5lb extinguisher, chrome rear view mirror vinyl wrapped to match steering wheel, Redds Apple Ale shift knob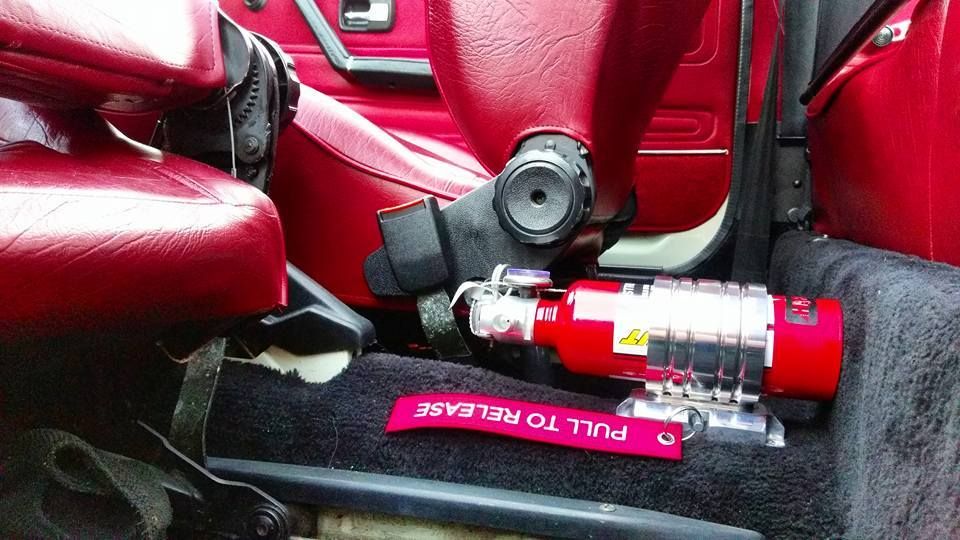 Stereo: Oldschool dual knob Blaupunkt (not hooked up so I actually use a Phillips bluetooth speaker)
Exterior Modifications: Smallbumper eurobumpers, smoked turn signals, clear Mercedes G Wagon side markers with amber and red LEDs, chrome small euro waistline and rocker panel trim, Porsche script door handles with brand new seals, small duckbill, GTI wiper arm with spoiler, OEM A pillar fairings, OEM drivers chrome flag mirror with passenger delete, euro postal tail lights, matching red oxen boot cover BRAND NEW TOP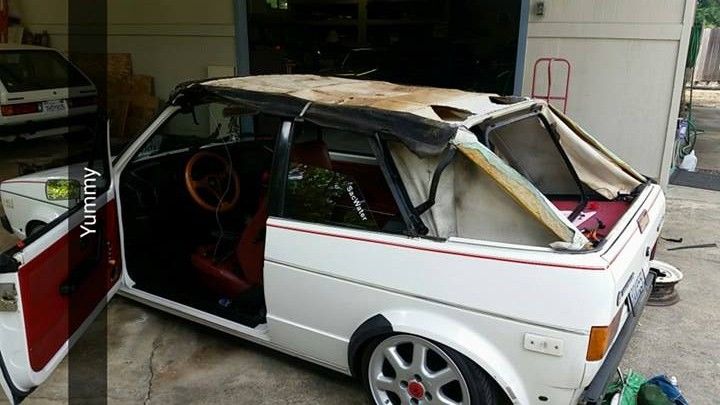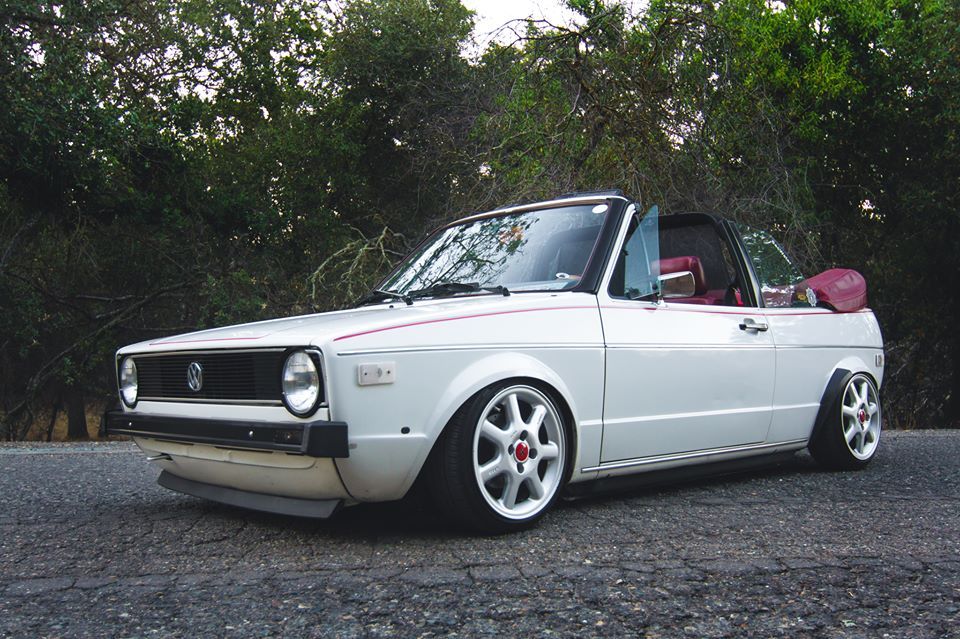 Wheels/Tires: BBS Bugatti, 165-45-15 Federal Formoza FD1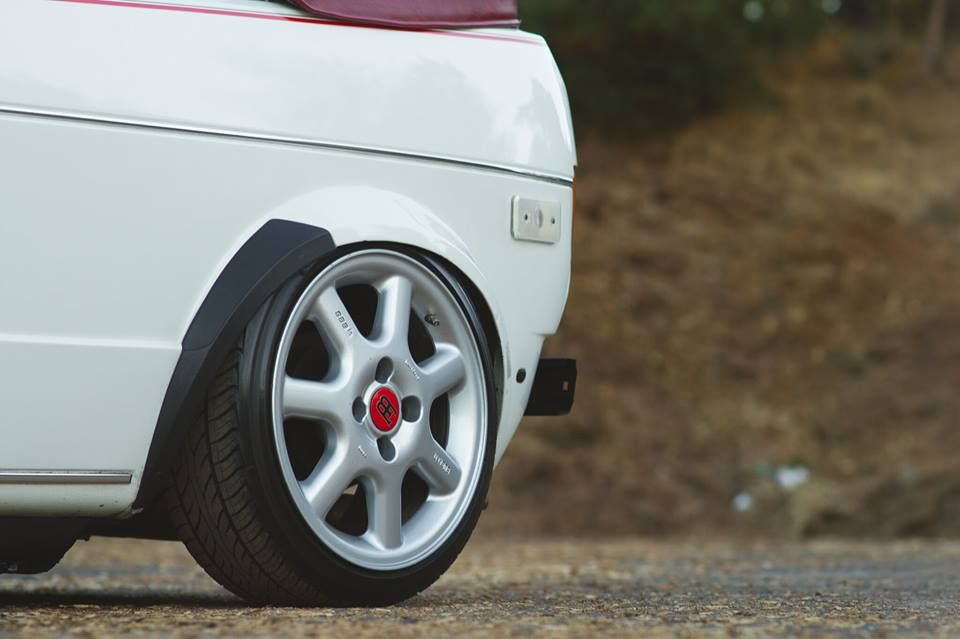 Brakes: 9.4" Autotech Clubsport rotors with Hawk HPS pads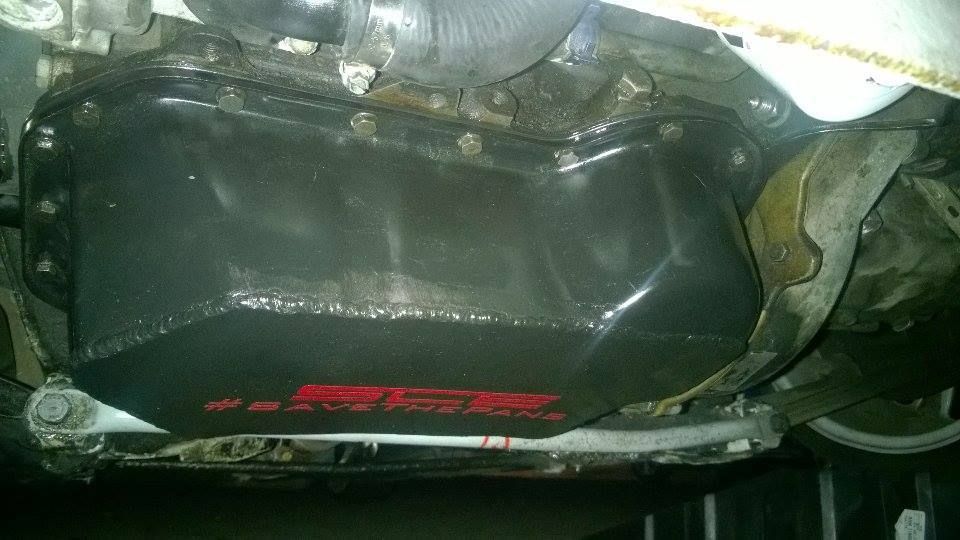 Engine: Original 1.8 8v, G60 Valve Cover, Scientific Rabbit custom intake manifold, Neuspeed throttle body, big bore intake pipe, K&N air filter, SCE shortened and reinforced oil pan, windage tray, small external oil cooler, Techtonics race front and rear motor mounts, Techtonics HD side motor mounts, MissingLinkz complete heim joint shift linkage, Techtonics short shifter, all shift bushings are delrin, USRT Mushmeister for the clutch cable, SCCH shift base heim joint, Peloquin 80% differential kit
Exhaust: No Name 4-2-1 Headers, 2" straight back to a Magnaflow muffler
Suspension: Raceland Ultimos, Fastbunnymetalworks front strut mount extenders with HD audi 90 bushings, notched frame, Welded LCAs with poly, new tie rods with poly rack bushings, custom LCA single point brace since I cant drive this low with the k-bar, Big'ol Neuspeed rear sway bar with no front, Neuspeed front strut brace, Autotech rear strut brace, Ultra Racing 4 point trunk brace
Future Mods: Too many things, most of this I have sitting in my room just waiting for me to get to.
Rebuilt 2.0 aba bottom end with solid lifter big valve jh head with the works, too decide between callaway valve cover or schrick valve cover
lightened flywheel, new clutch/pressure plate, big brake kit, rear disc brake conversion, raxle axles, ABF alternator/serpentine, berg cup kit, get the mid-hatch spoiler on