sacwater noob

Posts: 7
Joined: Wed May 31, 2017 1:06 pm
I look forward to even more gifs from you, Jared.
---
cubedfreek wrote:I look forward to even more gifs from you, Jared.
---
sacwater noob

Posts: 7
Joined: Wed May 31, 2017 1:06 pm
I suppose this is a good a place as any to show off the previous rides, and the current ones for relevance-sake.
First was my '02 2.slow. Stepdad drove 193k miles in six years before I took it over for the remaining four years and total of 232k miles. I love this car, and I never should have sold it. Lots of goodies were on it: one-of-a-kind fully polished Oettinger Type REs 18x8 (confirmed by Oettinger), Reiger heckeblend, in.pro. clear tail lights, Reiger front valence for a little while (the good ole' Jay Leno chin), Rokkor coils, clear turns, joey-modded headlights, and ATE Premium One rotors.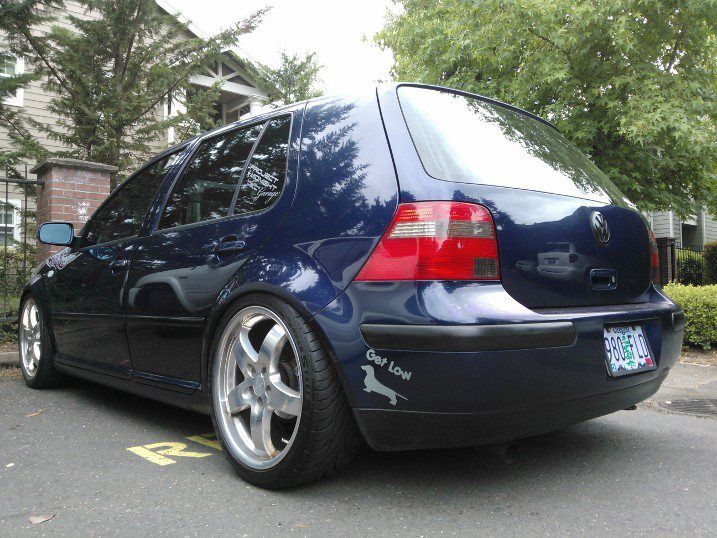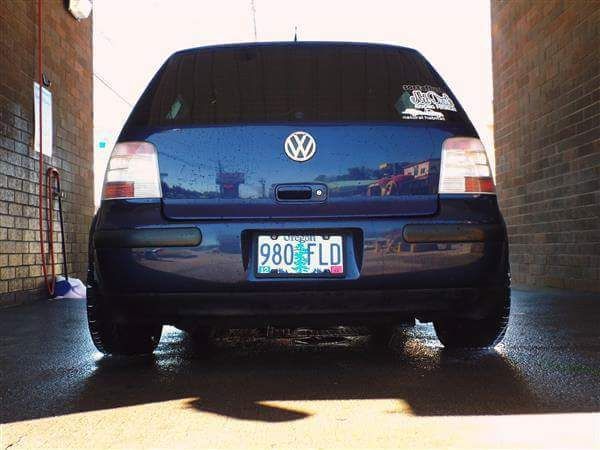 Following that, we picked up an '01 Passat V6 4Motion GLX. This was my wifes first VW, and she LOVED this car. We kept it until just October of this past year, and are regretting getting rid of it also lol we did Porsche Twists 17x7 in Solar Rain powder coat (one-of-a-kind as well), Koni Yellow struts on H&R sport springs mated to two sets of ECSTuning coilover sleeves for adjustability (I lie, for more lows), Mk4 Jetta lighted votex rear wing, custom headliner and pillars, cherry red tinted tails, HID upgrades, Beetle donut headrests, reverse-TIP mod, and a mufflerectomy.
After getting rid of the Golf, we got our first car loan and I got into a 2002 Passat 1.8T auto. Did nothing but exhaust work. It was very loud and I loved it. She hated it. It was VERY loud. Stepping stone car, so we had it for just a year before trading it in.
Traded that Passat in for the family hauler, 2009 JSW TDI w/ DSG and panoramic roof. Loved the car, we could do so much with it, like go to Oregon with most of our wedding decorations and everything to get married in Oregon and spend two weeks out of the house for the three of us. Pictured here is it eating a LoveSac SuperSac to be brought up from my moms place in SoCal to our house here.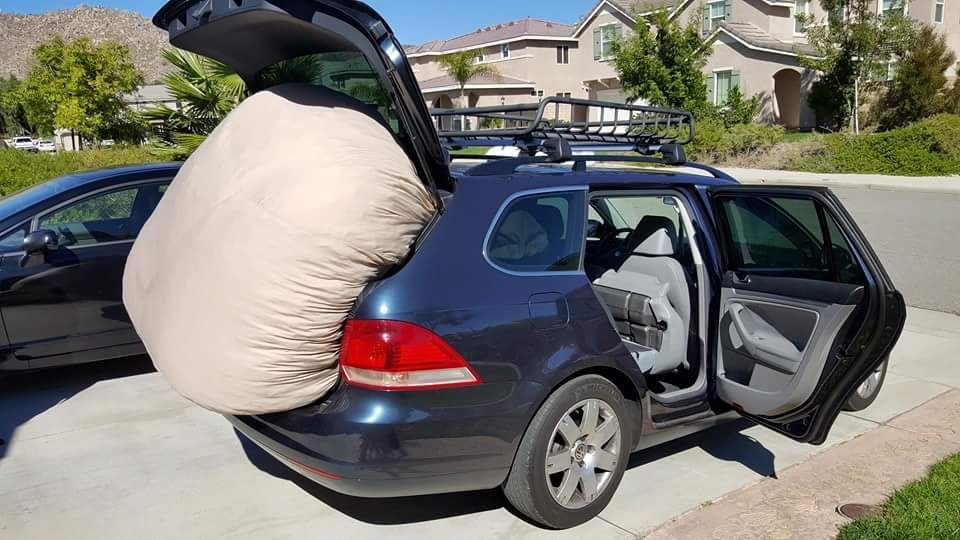 Unfortunately, that was a mere stepping stone car as well, and with the TDI thing having just hit, we were able to get a smoking deal on our first brand new car. 2016 Jetta Sport 1.8T 5MT. This is my DD now. I've done JOM Blueline coils (crappy, but free. Can't complain.), 15% front 5% rear tint, OEM cross bars, GLI rear valence, yellow-tint fogs, APR Carbonio Stage 1 intake, and, most recently, Beetle Sunroof Sound and Nav OEM wheels.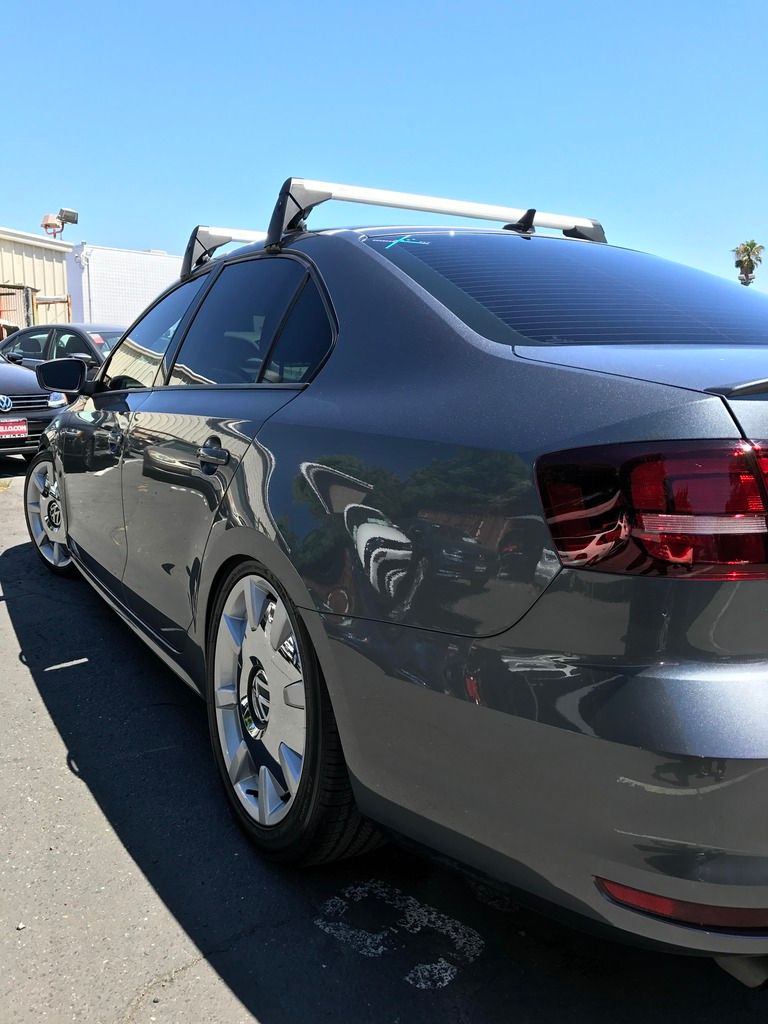 The latest addition that came from having to sell the V6 4Mo Passat is my wifes DD. 2017 Passat R-Line w/ lighting package in Deep Black Pearl. Nothing done to it other than window tint (same 15% front and 5% rear) because she won't let me touch it
But it IS the family car and it's basically perfect as is. Such a comfortable and amazing looking car as it is.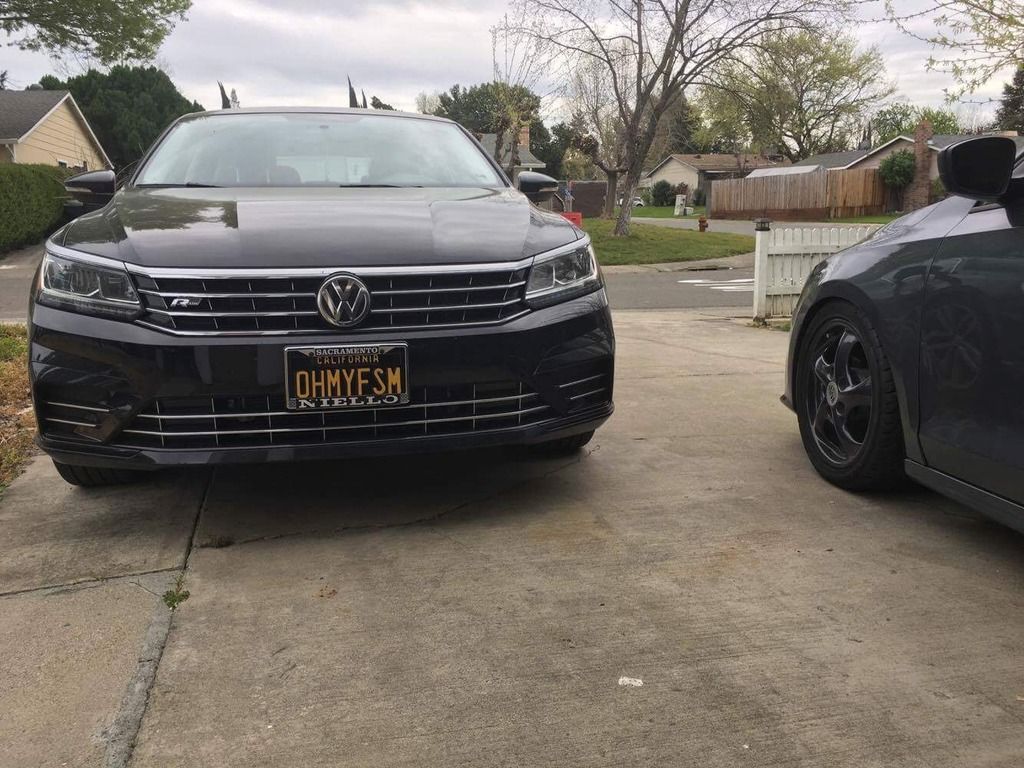 And that's where we're at!
---
sacwater noob

Posts: 58
Joined: Tue Sep 23, 2014 4:49 pm
Location: Orangevale, CA
I know the struggle of wifey not letting you touch the car. Mind won't let me do jack to our '09 jetta wagon.
---
---
Who is online
Users browsing this forum: No registered users and 1 guest